RELOCATION / EXECUTIVE / ARCADIA, Scottsdale $2M New Construction March 2020 (posted rec on Linkedin)

We have moved 11 times in 30 years, dealing with 22 buy/sell agents and Denise ranks in the top 10% agents we've used. She was professional, knowledgable, responsive, well organized, on-time, focused and always reachable, despite a 3 hour time difference. We are not easy clients. We relocated to Phoenix/Scottsdale and knew nothing about the area. This meant we only gave Denise vague advice. She took time to show us Cave Creek, The Boulders, DC Ranch, Kierland, Paradise Valley, Arcadia and downtown Scottsdale. We saw single family homes and condos at multiple price points. Never once did Denis show frustration at our lack of specific direction, moreso she listened as we viewed over 30 homes and quickly helped us focus on what was right for us. What impressed me most is that Denise was so helpful after we signed the purchase agreement. Being 2,000 miles away it was hard to do certain things, yet Denise helped us manage them, showed up to our inspection and even helped us sort out mail box keys. It is rare to find an agent who remains so engaged during and after the process. I would definitely recommend Denise to anyone who has an interstate move, or knows little about the area. She was world class. Thanks Denise.


SOLD HOME / BUYER AGENT FOR NEW HOME $2.8M ♥ Second Agent ♥ Unique Selling Strategy
Denise is very competent in representing us as we set out to Sell our home and in pursuit of a new home. The quality of her brochures and the amount of investment she personally invested in selling my home was extensive. She is knowledgeable In the home market and will very aggressively market your home.
SOLD HOME / BUYER AGENT FOR NEW HOME $2.2M ♥ Second Agent ♥ Unique Selling Strategy
Denise was extremely professional and diligent in marketing our home. She has excellent contacts that generate a high volume of potential buyers for open houses and other events, and is thoroughly enthusiastic about her listings. In addition, she has a design background that allows her to help potential buyers envision how they might remodel a home to suit their individual preferences. We would not hesitate to recommend Denise to anyone looking to buy or sell a home (and we have in fact done so).
SOLD HOME $1.7M ♥ Second Agent ♥ Camelback Country Estates Paradise Valley
This large family home was vacant and listed for a full year before Denise was hired as the second listing agent. A modest budget was agreed upon to provide badly needed curb appeal, and the list price was raised to recoup the cost. The home was off the market for a short 2 week period for completing the work and extensive pre-marketing. Once posted on the MLS, the home was held open every day and neighbors were engaged. The home was under contract within 10 days.
BUYER AGENT $4.8M ♥ 4 Homes ♥ Canadian Company Executive Relocation
We are so thankful for all the hard work Denise did for us in the whole process of buying a house. We had a huge task moving our family of 6 from Canada in the time span of less than 4 months from start to finish (looking to buy, buying then moving). Denise helped us narrow down our search, found us a house, then helped us make a deal and then did all the other details for us from lining up home inspection, making sure all the work got completed to final possession. It was such a relief to know we could trust Denise with all these details while we were back in Canada selling our home there and packing up to move. Through this whole Life changing process Denise was there for us every step of the way! We will use her again for sure! We have even referred her to close friends who are now purchasing a beautiful vacation home with a Denise's help
BUYER AGENT $1.5M ♥ Paradise Valley ♥ First time home-buyers
Denise and Patrick van den Bossche were amazing to work with. We were looking at homes remotely from California, and would come into town every few weeks for a marathon day of home tours. We worked with multiple realtors prior to Denise, but none had the same energy, knowledge of Phoenix/Scottsdale communities, and organizational skills. We found a great home for us and she was phenomenal to work with during the home buying process. During the escrow she made sure our interests were protected at every step and made it easy for first time home buyers to navigate the process. After the closing she has been very helpful, working with us to provide key contacts such as contractors etc. We plan to work with Denise in the future and highly recommend her.
SOLD $1.2M ♥ Biltmore Highlands, Phoenix Mountain Preserve
Smart, proactive, go getter. Definitely has the experience and knowledge and has cultivated contacts and resources in the field. Denise does her homework and did a fantastic job selling my home, I would strongly recommend her , and would user her for any future home transactions. I feel that she was on top of everything and her advice was always spot on!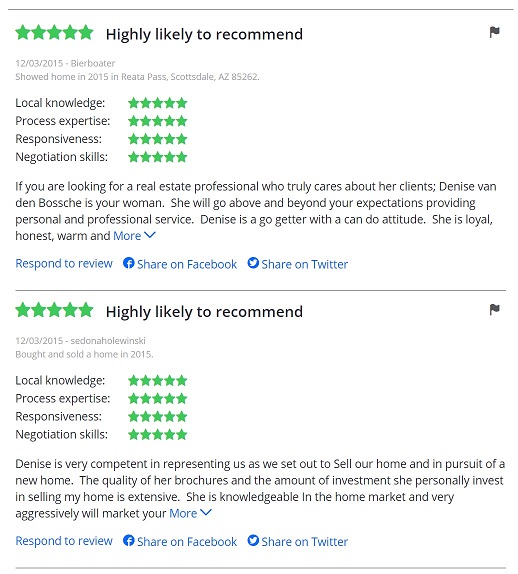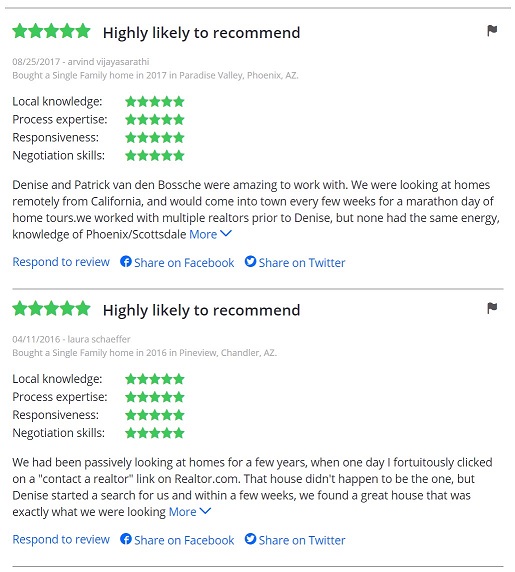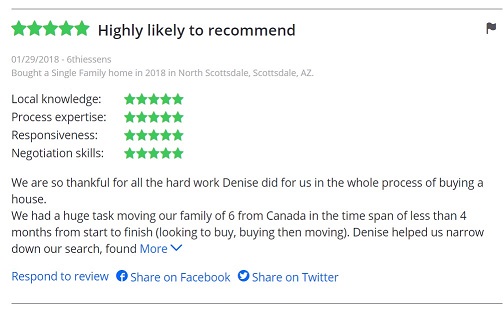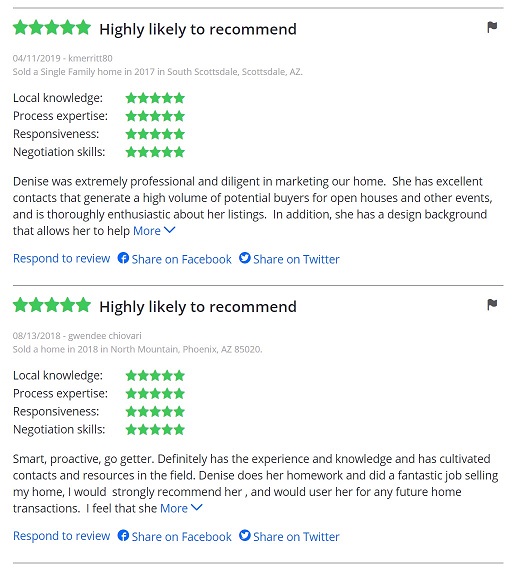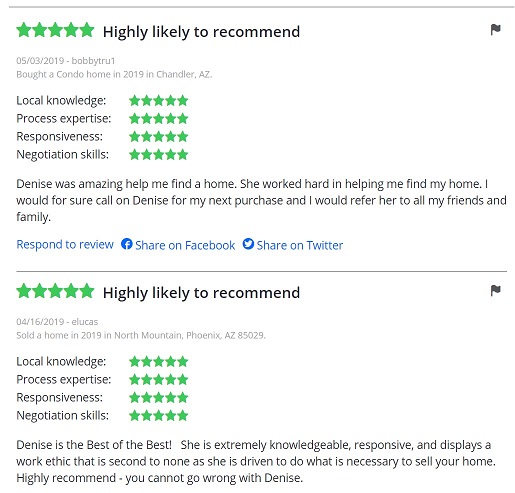 Realty Executives - Scottsdale
10607 N Hayden Rd
Scottsdale, AZ 85260
Denise van den Bossche 602-980-0737
Realty Executives - Scottsdale
10607 N Hayden Rd, Scottsdale, AZ 85260
AZ DRE License Numbers: DV139